Tag: where to go in dothan
by Terminal D on Jan.22, 2009, under Business Meals, Business Travel, Hotels, Vacation
Demonstrating the depth and breathe of our travel experience, Terminal D and Captain G have put together the best practices for business travel in Dothan, AL. Where exactly is D-town? See the map below: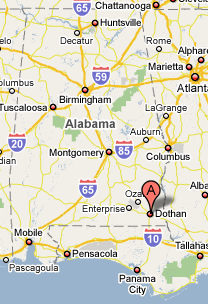 Below is a list of our recommendations:
Where to stay?
1.  Hampton Inn
Believe it or not, this is the nicest place to stay in town, if you can get a reservation.  Built within the last few years, it's managed to stay fairly clean and has free wifi.  It's recommended that you bring your own pillow.   (For a true best practice, steal a pillow from the Fairfield Inn by Marriott)  And don't let those Hilton points expire!
2.  Courtyard Marriott, which happens to be connected to the Fairfield Inn, is our number 2 pick. We recommend the Courtyard because it is slightly cleaner, but "clean" is a very generous word in this case.  Only stay here if you are a true PW.
(Warning: Don't be confused if your morning paper and coffee is interrupted with a bill.  The breakfast is not free!)
3.  Sleep Inn is next to the Hampton Inn. It's fairly clean but clearly in 3rd place.
What to eat?
1.  Long Horn Steakhouse – it is the best restaurant hands down. It also has a great wine by the glass selection which is unheard of in D Town!  They have a St. Jean Cab!!  Woohooo.
2. The Bistro – A great lunch place located at the heart of downtown D-town! It has good food and nice pictures of Europe – probably the only place where you could find such pictures.
3.  La'Le Mediterranean Cafe & Bistro – A great lunch place offering classic greek and similar cuisine.  Odd hours, random closings and a difficult-to-find location may anger you the first 3-5 times, but it's worth holding out for.
4. Atlanta Bread Company – We know, but it's the only place you can get fresh fruit and $3 coffee — although Starbucks recently opened at Target which doesn't open until 9:30AM.
5. Applebee's – And you thought #4 made us look dumb.  Don't go here for the food, but the bar is nicely stocked, it's packed with locals every night, and its proximity to the Mariott makes it a great place to wash away the memories of this terrible visit.
5a. TGI Friday's – This is a toss up with Applebee's. Hence the 5a rating. They have karaoke night like 2x a week. It is probably the only karaoke place where you will find zero Asians.
We love to hear from you. You can reach by leaving a comment or via email:  captaing@triangletrip.com or terminald@triangletrip.com
Leave a Comment
:alabama, courtyard marriott dothan, dothan, dothan alabama, dothan travel guide, dothan visitor guide, fairfield inn dothan, hampton inn, hampton inn dothan, local guide, marriott, south, travel guide, visitor guide, what to do in dothan, where to eat in dothan, where to go in dothan
more...