Tag: car service
by Captain G on Aug.21, 2014, under Business Travel, Travel Partners
As a New Yorker, I tried Uber for the first time today and found the issues it must address to be successful in New York City (NYC):
1. Uber must be transparent with its fares. When I enter my current location (home) and a destination, I was given a range as a fare ($40 to $53). When the driver picked me up, he couldn't give a set price or a rate for my trip. After the driver dropped me off, I received an email with a $50 fare. Furthermore, Uber's rates are cryptic to the average person. I could have gotten a bill for $85 if there was traffic.
Uber's competition in NYC are NYC taxis, limousine companies, and local car service firms. When I enter a NYC taxi, I see the rate I am expected to pay and can see traffic patterns to know when I should be dropped off before my destination if I chose to walk. Limousine and local car service companies provide a fixed fee once I provide an origin and destination.
Uber needs to be transparent with its NYC customers or stand to lose them.
2. Despite its marketing materials, Uber is not competitive on price. For the record, Uber X was cheaper than a limousine, but not by much. Uber X was about the same price as a NYC taxi. However I couldn't really compare because I don't know Uber's rates (is it by miles, is it by wait time, etc.?). For sure, Uber X was a lot more expensive than my local car service company.
3. Uber's route is not always right. When my driver picked me up, he was given a route by the Uber system. When I suggested an alternative route with less traffic to my driver, he said he must follow the Uber route. Uber and its drivers need to take local knowledge into account.  I have been living in my neighborhood and commuted to the city for 20+ years. I believe I know the quickest way to the destination compared to any computer.
I am open to consulting Uber on its way to better compete in NYC.
1 Comment
:car service, cost for uber in nyc, fix uber, nyc car service experience, nyc taxi, nyc uber, should i take uber in nyc, should i use uber in nyc, taxi, uber, uber cost nyc, uber costs, uber directions, uber expensive, uber expensive or cheap in nyc, uber experience, uber experience in nyc, uber fraud, uber improvements, uber issues in nyc, uber nyc, uber sucks, uber sucks in nyc, uber suggestions, uber vs nyc cabs, uber vs nyc taxis, why i dont use uber, why uber sucks
more...
by statusmonger on Mar.13, 2009, under Business Tools, Business Travel
Recently I lost my wallet one night (during a drunken stupor but that's another story). The next day I had to book car service, a hotel, and take a flight out. But even without my wallet I was able to do all of these because I had a lost wallet contingency plan. Here are a couple steps I always take:
1) Keep your cash and credit cards separate. I always keep my cash in a money clip and my credit cards in a wallet. The reason being is if I lose one I'll still have the other.
2) Always have a backup credit card and a backup bank account debit card. I always keep a backup credit card with no annual fee at home. I also have a backup bank account that I keep $100 in with a debit card I leave at home. This way I always have access to cash and credit in case I lost my wallet.
3) Always have your passport handy at home or in your bag even while traveling domestically. Your passport is probably going to the best candidate for a backup government issued ID. Also, if you lose your license while traveling you might face difficulties going through airport security without a backup ID handy.
And in case you lose your cell phone, always remember your username and password to your cell phone carrier's website. That way you can lookup phone numbers you frequently dial on your online cell phone statement when you don't have anyone's phone number.
Lastly, for those of you who are looking to save money on accessories during this recession, I've found that this can replace the functionality of a money clip at a very low cost: the binder clip.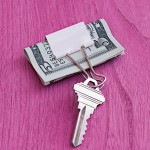 1 Comment
:bank account, car service, Cash, cell phone, Credit Card, debit card, flight, hotel, ID, passport, travel, wallet
more...