by Captain G on Apr.12, 2011, under Business Tools, Business Travel, Vacation
Whether you're in Hong Kong for business or pleasure, the most economical way to stay connected (with web, voice and text) is with China Mobile's prepaid plans. China Mobile operates as "Peoples" in Hong Kong. Unlike other Hong Kong mobile providers (i.e., PCCW which has great international mobile plans), China Mobile is the only carrier offering pay as you go mobile data. As long as you have an unlocked GSM phone, you will be able to access the web, send SMS texts, and make phone calls.
I am really impressed with China Mobile's prepaid mobile data plan because it is surprisingly cheap – even when compared to alternatives like global WiFi (here's a link to my previous post), hotel internet access, and Internet cafes. For HK$38 (a little less than US$6), China Mobile will give you a week of unlimited mobile data service — YES, seven (7) days. China Mobile also has daily and monthly prepaid data plans. Here's the link to China Mobile's website for more details including one number access while you are traveling in Hong Kong and China.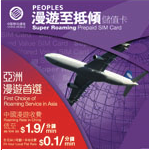 The downside to China Mobile's mobile data services are:
1) You are on the slower EDGE network, as there is no 3G service. I guess you get what you pay  for.
2) You may not be able to access major US websites like Twitter, Facebook, or even Google apps. This is due to the Chinese firewall censoring mobile content. You probably can't access your company's email if it is hosted on Google Mail, either. Sorry – there aren't any alternatives or hacks.
You can pick up the prepaid mobile SIM at any Chine Mobile retail store, 7-Eleven, Circle K or Hong Kong grocery stores/newstands.
:cheap hong kong prepaid mobile data, cheap mobile data plan in china, cheap mobile data plan in hk, china mobile, china mobile in hk, china mobile prepaid, china prepaid mobile data, hk mobile plan, hk prepaid mobile data, hong kong monthly prepaid mobile data plans, hong kong prepaid mobile data plans, how to get cheap hk mobile data, how to get cheap mobile data plan in hong kong, mobile data plan, pccw, peoples, peoples prepaid, peoples prepaid mobile plan, pre-paid mobile data, prepaid mobile data, prepaid mobile data plan, prepaid mobile data rates, weekly prepaid mobile data in hk
6 comments for this entry: