Tag: extended hotel stay tips
by coach on Feb.16, 2011, under Business Travel, Hotels
Furthering my previous post regarding hotel best practices when you're staying at a hotel for an extended period of time, here are a few more tips: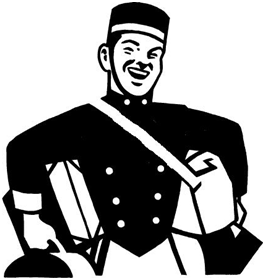 1.  Feel free to leave a bag at the bell desk or concierge. If you don't want to carry your toiletry going through TSA, just bring an extra duffle bag and leave the bag with the front desk or bell hop when you check out. Not only should you leave your toiletry, you should look to leave your workout gear, or any outfit for the climate. This works well if you are traveling to a different climate, you should always leave a jacket, sweater, fleece, etc. that you may not need at home.  You'll be lighten your load on your weekly commute and the people behind you at the security checkpoints will thank you for it!
2.  Always tip the bell hop or concierge if you're asking them for a favor like holding your bag over the weekend. A good suggestion is $2-5 per bag (adjusting to locale and inflation), depending on your relationship. This goes along way with the staff – these guys are the heart and soul of the hotel. I typically tip on drop off and pick up.
Sometimes a souvenir from your home has more mileage. For example, bring the hotel staff "I Love NY" t-shirts if you're from NYC or some Ghirardelli chocolate if you're from San Francisco.
4 Comments
:discounted hotel rate, extended hotel stay, extended hotel stay tips, extended stay hotels, hotel benefits, hotel best practices, hotel booking, hotel loyalty, hotel perks for extended stay, hotel points, hotel rate, hotel reservation, hotel tips, perks from hotels, SPG, tips for hotel, upgrade hotel room
more...