by Captain G on Apr.15, 2009, under Business Tools, Business Travel, Travel Partners
I had issues connecting my AT&T VPN client using my Sprint broadband card as my internet service provider. The Sprint connection would drop right after I am connected to the VPN. I searched the AT&T VPN client site and forums but couldn't find an answer. I also contacted Sprint but their technical support is pathetic.
After trying different configuration settings on the Sprint SmartView client, I finally got the AT&T VPN client to be connected to the Sprint network. This may seem easy to folks with adequate documentation from their IT staff but I was working as a consultant with limited resources. Hence I am sharing my findings with my readers.
Here are step by step instructions to get the AT&T VPN client up and running on your Sprint mobile broadband:
1.  On your SmartView Settings, make sure you have selected: "Use this as my default Wi-Fi management utility"
2.  Go to the "Rules Engine Tab" (see picture below)
3.  Under:  "Use only specified device" –> SELECT: Mobile (this is optional if you have a more user friendly WIFI management utility)
4.  Under:   "When Automatically Switching Technologies" –> SELECT: "Keep Previous Connection Open"
5.  Under:  "Connection Maintenance" –> SELECT:  "Maintain established connection regardless of other network availability"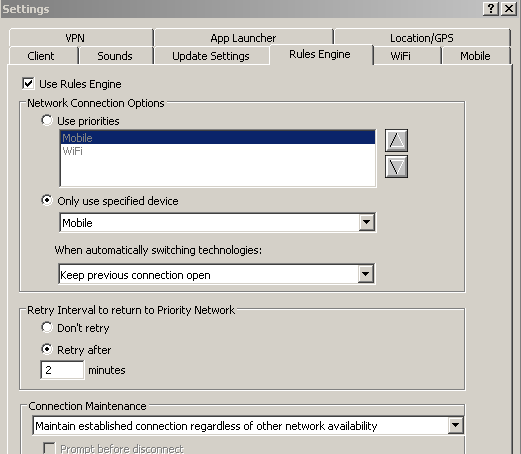 :at&t, at&t vpn, att vpn client, mobile broadband, sprint, sprint broadband, vpn client, vpn mobile broadband, vpn sprint
4 comments for this entry: